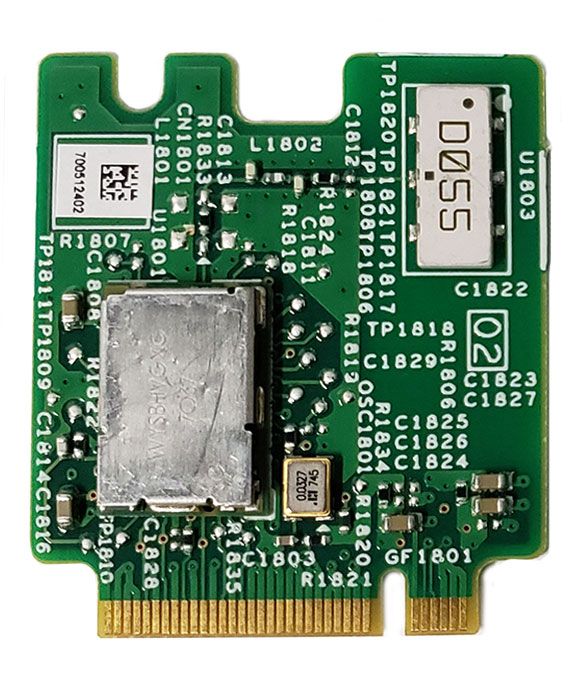 The Avaya J100 Wireless Module is an optional plug-in hardware module. It provides Wi-Fi network connectivity for Avaya J129 and J159 IP Phones and Wi-Fi network and Bluetooth connectivity for Avaya J179 and J189 IP Phones.
Avaya J100 Wireless Module Features
Provides Wi-Fi network connectivity on Avaya J129, J159, J179, and J189 IP phones running SIP firmware

Allows you to use wireless ethernet when wired ethernet is not available
The secondary PC port is NOT active if WLAN is used
802.11 a/b/g/n/ac
Multiple SSID
Enterprise-grade security - WEP, WPA-PSK, WPA-Enterprise, WPA2-PSK, WPA2-Enterprise, WMM, EAP-FAST, PEAP-MSCHAPv2
Manual wired <-> wireless failover, manual SSID <-> SSID failover
Icon shows on phone screen top line when WLAN is in use

Provides connectivity to Bluetooth wireless headsets on Avaya J179 and J189 IP phone running SIP firmware

Bluetooth Version 4.2
Supports Handsfree profile and Headset profile
Up to seven headsets can be paired
Bluetooth power class 2 (10 meter range)
Status icon shows on phone screen top line when Bluetooth is enabled.
Provides Wi-Fi network and Bluetooth connectivity on Avaya Vantage K155 Multimedia Device
Compatibility
Compatible with Avaya J129, J159, J179, J189 IP phones

Wi-Fi network connectivity requires the use of J100 SIP 2.0 or later software
Bluetooth connectivity requires the use of J100 SIP 4.0.0 or later software
The J100 Wireless Module is not supported with Deskphone H.323 software

Supported on Avaya IP Office 11.0.4 or higher
Also compatible with Avaya Vantage K155 Multimedia Device